Fiji is a developing nation in the southern Pacific. It is composed of a group of some 300 islands and its climate is tropical marine with only a slight seasonal variation.
Health issues for travellers
Emergency care is very limited in Fiji and adequate medical care is only available in a single private hospital in Suva. Hospital accommodations are otherwise inadequate.
Diseases resulting from mosquito bites (dengue fever) are a problem for the whole country.
Unfortunately, hygiene standards are variable and gastrointestinal infection is common especially in rural areas. Even in luxury resorts, contamination of food and water may occur.
Recommendations
Medical care
Apart from a single private hospital in Suva, medical care is substandard.
Evacuation insurance coverage for all travellers is a high priority. In the event of a serious medical condition, medical evacuation to Australia or New Zealand may be necessary.
Advanced technology is lacking and ambulances are poorly equipped and staffed.
Mosquito protection
There is no malaria in Fiji, but dengue has become a very important problem.
Dengue
Significant risk exists in urban and rural areas, including Suva. Transmission occurs throughout the year with highest activity from December through March. Daytime insect precautions are recommended.
In 2015, Fijian authorities have noticed a significant increase in the numbers of patients with dengue.
Traveller's diarrhoea
Moderate risk exists throughout Fiji, including in luxury resorts. Food and beverage precautions are essential to reduce the likelihood of illness.
Traveller's diarrhoea is usually acquired when people from countries with a high level of hygiene travel to countries with a low level of hygiene.
Individuals at particularly risk include young adults (prone to risk-taking behaviour and often on limited budgets); persons with immune suppression, inflammatory bowel disease or diabetes; and those taking medications that decrease gastric acidity, most notably proton-pump inhibitors (omeprazole, esomeprazole, lansoprazole, etc.).
Do not eat:
Unpasteurised dairy products such as cheese, yogurt, ice cream and milk.
Leafy or uncooked vegetables or salads.
Undercooked, raw, or cold meat, seafood, and fish.
Cold sauces such as mayonnaise, salad dressing, chutneys, or salsas, which are usually raw and made by hand.
Do not drink:
Tap water or rinse toothbrush in tap water
Ice unless it is made from boiled, bottled, or purified water.     (Freezing does not kill the organisms causing diarrhoea.)
From wet cans or bottles—the water on them may be contaminated. (Dry wet cans/bottles before opening and clean all surfaces that will have contact with the mouth.)
Fruit juice unless it comes directly from a sealed container; otherwise it may have been diluted with tap water.
Travellers should carry loperamide and/or a quinolone antibiotic (eg azithromycin) for presumptive self-treatment of diarrhoea if it occurs and electrolytes for the replacement of loss. Discuss the various options with your doctor.
Vaccines:
Routine:
Travellers are advised to ensure that all routine vaccines (tetanus, diphtheria, pertussis, measles, mumps, rubella, chickenpox and hepatitis B) are up to date.
Recommended

:
Travellers to Fiji are advised to have vaccination against hepatitis A and typhoid fever.
Similarly, rabies vaccination should be provided to the young, backpackers or any who are likely to be exposed to dog or bat bites or scratches.
Influenza exists throughout the year in the tropics and vaccination offers a cost-effective protection.
Travel advisory
The Australian Government's travel advisory (http://smartraveller.gov.au/zw-cgi/view/Advice/Fiji) advises travellers to "Exercise normal safety precautions".
We advise you to exercise normal safety precautions in Fiji. You should exercise common sense and look out for suspicious behaviour, as you would in Australia. Monitor the media and other sources for changes to local travelling conditions.
Cyclone season is November to April.
Driving, particularly at night, can be dangerous due to insufficient street lighting, stray animals and poor quality roads.
Expatriates and tourists have been the victim of violent crimes and sexual assaults.
Outbreaks of endemic mosquito-borne illnesses (including dengue fever) are common.
Always register with SMARTRAVELLER.GOV.AU
History
Although Fiji has been inhabited since the second millennium BC, many now believe the islands of the South Pacific were settled many centuries earlier. Unlike their neolithic forebears, who were hunters and gatherers, the newcomers, who eventually were to populate Fiji, were proficient in using both sail and outrigger canoes, in the cultivation of various root crops and pig farming.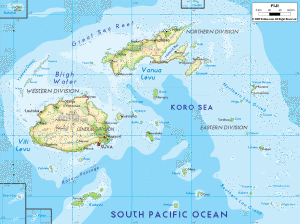 The first settlers were Austronesians, and they were followed by Melanesians, with some Polynesian influences.
These settlers were initially from the west but modern Fijian culture incorporates influences from neighbouring countries, but also from European and Indian settlement. It has therefore been a country of many languages and cultural influences.
Over the centuries, a unique Fijian culture developed based on networks of clans and alliances and which sometimes involved war. Dutch explorer Abel Tasman was the first European to visit Fiji in 1643 and was followed by Captain James Cook who sailed near the southeastern islands in 1774.
Commercial interest, particularly in the harvesting of sandalwood and trapang by Europeans, helped intensify clan rivalries and the adoption of various brands of Christianity. Fiji became a British crown colony in 1874 and indentured Indian labour was utilised to develop sugar plantations and processing mills. Strikes and political discontent after the discontinuation of the indentured labour system in 1920 led to questions over British control.
The Second World War saw Fijian soldiers serve with Allied forces in the Pacific, although Indians were reluctant to serve. After the war, constitutional development towards independence began and a constitution based on democracy with recognition of the nation's ethnic divisions was introduced in 1966. Independence became a reality in 1970.
Racial differences between Fijian nationals and Indians saw a coup take place in 1987 led by Lieut Col Sitiveni Rabuka. He declared Fiji a republic and a new constitution; designed to concentrate power in the hands of Fijians was promulgated in 1990. He became prime minister in 1992 but, after further constitutional changes in 1998, Mahendra Chaudry became Fiji's first prime minister of Indian descent. However, a businessman George Speight also removed him and martial law was declared.
Tensions continued until 2006 when military leader Frank Bainimarama seized power and appointed an interim cabinet. In 2012, he announced a plan to create a new constitution, which came into effect in 2013. In 2014, Frank Bainimarama becomes the country's civilian leader after winning parliamentary elections.