With a population of over 67 million, Thailand is a developing nation in the upper half of the world's economies. Located in Southeast Asia, it has a tropical, monsoonal climate and is a popular tourist destination.
Health issues for travellers
A high standard of medical care is available in Bangkok, but is less so in peripheral areas. Certain hospitals offer very high standards of health care, attracting medical tourists, eg in Phuket and Ko Samui.
Unfortunately, congested roads and a scarcity of ambulances can make receiving timely medical attention difficult. Seriously ill travellers are often best to take a taxi or private car to the nearest major hospital rather than wait for an ambulance. The quality of health care is less in regional and country areas.
Hospitals may require guarantee of payment prior to treatment. Credit cards may not provide guarantee of acceptance for medical care.
Sex tourism is a major industry in Thailand and provides a variety of sexually-transmitted infections for the unwary. Exploitation of sex workers and children is subject to legal challenge by Thai and, for Australians, by Australian authorities.
Alcohol-related injury is the commonest cause of death and injury in Australians and may be manifest in drowning, motor vehicle accidents, etc.
Terrorism risk is a constant issue in Thailand and travellers should be careful in commercial areas frequented by tourists. Travel to the Thai-Cambodian border should be avoided unless otherwise advised by regional authorities.
Recommendations
Medical care
Always purchase travel insurance before leaving Australia.
Tourists must carry their passports with them at all times.
Malaria precautions are advised in affected areas, especially in border areas with Malaysia, Burma, Cambodia and southern Laos. No, or minimal, risk exists in most tourist destinations. Check with your GoodTrips doctor.
Traveller's diarrhoea is a high risk throughout the country. Always carry loperamide (Gastro-Stop) and your doctor-advised antibiotics. See below.
Weather-related issues:
Jungle treks are not advisable during the rainy season due to the possibility of mudslides. Riptides in coastal areas can be strong, including the popular destinations of Phuket, Ko Samui and Pattaya. Always check with local authorities.
Mosquito protection
In rural and border areas of Thailand, bed nets, repellents and protective clothing may be very important. All travellers should take repellents with them, but leave deodorants and perfumes at home.
The mosquito diseases –
There is a high transmission rate (equally between P.Faliparum and P.vivax) throughout the year. Travellers should decide between oral medications (Malarone and doxycycline) after discussion with their GoodTrips doctor. Antimalarials are recommended for all travellers to rural and border areas. Evening and night-time insect precautions are essential.
Japanese encephalitis. Two vaccines (Jespect and Imojev are available) – see below, the first requiring two doses 28 days apart and the second is a single dose. Significant risk exists in rural areas throughout the country, with much higher risk in the north (Chiang Mai Valley). Evening and night-time insect precautions are recommended.
Dengue. Significant risk exists in urban and rural areas. Transmission occurs throughout the year with highest activity between May and September. In 2015, no vaccine exists for the prevention of dengue. Daytime insect precautions are recommended.
Chikungunya. Risk exists primarily in the southern half of the country. Transmission occurs throughout the year. Daytime insect precautions are recommended. No vaccines exist. Daytime insect precautions are recommended.
Vaccines
Routine: Travellers are advised to ensure that all routine vaccines (tetanus, diphtheria, pertussis, measles, mumps, rubella, chickenpox and hepatitis B) are up to date.
Recommended:
All travellers to Thailand are advised to have vaccination against hepatitis A and typhoid fever.
Japanese encephalitis varies with rainfall, but is greatest between May and October, particularly in irrigated areas.

Vaccine is recommended for prolonged exposure, especially in those with outdoor exposure (hikers) or those living permanently in rural areas.

Similarly, rabies vaccination should be provided to the young, backpackers, adventure travellers, cave explorers or any who are likely to be exposed to dog or bat bites or scratches.
Influenza exists throughout the year but is highest between July and October. Vaccination, using the current vaccine, is recommended for all travellers.
Traveller's diarrhoea
Traveller's diarrhoea is usually acquired when people from countries with a high level of hygiene travel to countries with a low level of hygiene. Developing countries in Latin America, Africa, the Middle East, and Asia are considered high risk.Individuals at particularly risk include young adults (prone to risk-taking behaviour and often on limited budgets); persons with immune suppression, inflammatory bowel disease or diabetes; and those taking medications that decrease gastric acidity, most notably proton-pump inhibitors (omeprazole, esomeprazole, lansoprazole, etc.). A high risk exists throughout Thailand, including in deluxe accommodations. Food and beverage precautions are essential to reduce the likelihood of illness.
Do not eat:
Unpasteurised dairy products such as cheese, yogurt, ice cream and milk.
Leafy or uncooked vegetables or salads.
Undercooked, raw, or cold meat, seafood, and fish.
Cold sauces such as mayonnaise, salad dressing, chutneys, or salsas, which are usually raw and made by hand.Do not drink:
| | |
| --- | --- |
| Tap water or rinse toothbrush in tap waterIce unless it is made from boiled, bottled, or purified water.     (Freezing does not kill the organisms causing diarrhoea.) | |
| From wet cans or bottles—the water on them may be contaminated. (Dry wet cans/bottles before opening and clean all surfaces that will have contact with the mouth.) | |
| Fruit juice unless it comes directly from a sealed container; otherwise it may have been diluted with tap water. | |
Travellers should consider Travelan for diarrhoea prevention, but also carry loperamide (Gastro-Stop) and an appropriate antibiotic for presumptive self-treatment of diarrhoea. Discuss the various options with your doctor.
Travel advisory
The Australian Government's travel advisory (http://smartraveller.gov.au/zw-cgi/view/Advice/Thailand) advises travellers to "Exercise a high degree of caution".
We advise you to exercise a high degree of caution in Thailand due to the possibility of civil unrest and the threat of terrorist attack, including in Bangkok and Phuket. The security situation remains volatile. You should pay close attention to your personal security at all times and where possible monitor the local media, including social media, for information about possible new safety or security risks.
On 20 May 2014, the Thai military declared the imposition of nationwide martial law. On 22 May 2014, the National Council for Peace and Order (NCPO) announced that it had taken control of the country in a coup. Nation-wide martial law was lifted on 1 April 2015, though martial law remains in place in 179 districts in 31 provinces, mostly in border regions. The NCPO has retained wide powers, including to impose measures to respond to threats to peace, order and the economy.
Australians should stay well clear of any demonstrations, political events, rallies, processions and large-scale public gatherings, as they may turn violent. For further information on possible disruptions.
Be aware of the risks of hiring jet skis and motorcycles. Australian travellers continue to report harassment and threats of violence by jet ski operators on beaches across Thailand, and particularly in Phuket, Pattaya, Ko Samui and Koh Phangan. You may be detained and arrested by police following jet ski and motorcycle accidents until compensation, often in thousands of dollars, can be negotiated between parties. Check your insurance cover if you intend to ride a motorcycle in Thailand when you are not licensed to ride one in Australia.
Tourists may be exposed to scams and more serious criminal activity in Thailand. Be aware that food and drink spiking occurs in Thailand, including around popular backpacker destinations such as Khao San Road in Bangkok the night-time entertainment zones in Bangkok, Pattaya and Phuket, and during the Full Moon Party on Koh Phangan.
Travellers planning to attend Full Moon parties at Koh Phangan or other locations should carefully consider personal safety issues and take appropriate precautions. See our Partying Overseas page for advice on the risks you may face when attending Full Moon parties and tips on how to avoid becoming a victim.
Always register with SMARTRAVELLER.GOV.AU
History
The recent discovery of Homo erectus fossils such as Lampung man in Lampung province is an example of archaic hominids, dated from roughly 1,000,000–500,000 years ago in the Pleistocene. Stone artefacts dating to 40,000 years ago have been recovered from e.g. Mae Hong Son and in the Krabi peninsular, Thailand. The archaeological data between 18,000 – 3000 years ago primarily derive from cave and rock shelter sites, and are associated with Hoabinhian foragers.
There are myriad sites in Thailand dating to the Bronze (1500 BC-500 BC) and Iron Ages (500 BC-AD 500). The most thoroughly researched of these sites are located in the country's Northeast, especially in the Mun and Chi River valleys. The Mun River in particular is home to many 'moated' sites, which comprise mounds surrounded by ditches and ramparts. The mounds contain evidence of prehistoric occupation.
Thailand was heavily influenced by the culture and religions of India and Indian influence on Siamese culture was partly the result of direct contact with Indian settlers, but mainly it was brought about indirectly via the Indianised kingdoms of Dvaravati, Srivijaya and Cambodia.
Buddhism must have been flowing into Siam from India in the time of the Indian Emperor Ashoka of the Maurya Empire and far on into the first millennium after Christ.
Prior to the southwards migration of the Thai people from Yunnan, China, in the 10th century, the Indochina peninsula had been a home to various indigenous communities for thousands of years. The integrity of Thailand, its religion and legal code became established in the 14th century, but was brought down by Burmese armies in 1767. However, the Burmese were soon driven out and the Siamese (as they were then called) faced the onslaught of European colonisation in the early 19th century.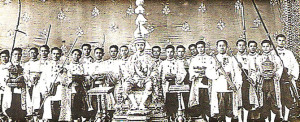 The Anglo-Siamese Treaty of 1909 defined the modern border between Siam and British Malaya by securing Thai authority over the provinces of Pattani, Yala, Narathiwat and Satun, which were previously part of the semi‐independent Malay sultanates of Pattani and Kedah. A series of treaties with France fixed the country's current eastern border with Laos and Cambodia.  Thailand remained independent from English and French colonialism, but remained an absolute monarchy until the Siamese Revolution of 1932.
During World War II, Thailand invaded French Indochina (Laos) and established a liaison with Japan, which allowed Japanese troops to cross Thailand to the Malaysian border. Although losing favour with the Allies, Thailand enjoyed the support of the United States, which established an air base at Udorn in NE Thailand during the Vietnam War. Thousands of refugees fled Laos and Vietnam after the war and Thailand was subject to several military coups up until the present day.
Thailand experienced a collapse of its economy in 1997 and a massive tsunami in 2004. In 2008 and again in 2011, skirmishes between Thai and Cambodian soldiers occurred over the Preah Vihear temple, a UN World Heritage site on the Cambodian-Thai border.
The current government seized power in a military coup in 2014.