Yellow fever is an acute infection by the yellow fever virus, a member of the Flaviviridae family of viruses. It is transmitted from person to person by the Aedes aegypti mosquito, and is endemic in parts of Africa and South America. 200,000 cases (with about 30,000 deaths) occur each year, mainly in sub-Saharan Africa.
Incubation period
The incubation period is 3-6 days.
Features
Mild cases develop headaches, fever, chills and muscle pain, while malignant cases go through stages called infection, remission and intoxication. The 'intoxication' stage is characterised by jaundice, bleeding, coma and (in up to 60% of cases) death.
These symptoms may be confused with those of malaria, typhoid, viral haemorrhagic fevers, and hepatitis.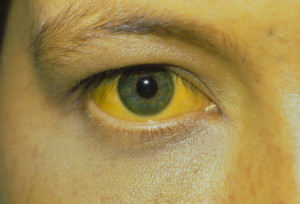 In its mildest form, yellow fever resembles a bout of influenza, but in the most serious cases can lead to severe hepatitis, hemorrhagic fever and death. Up to 20 percent of all cases end in death, though mortality rates are much higher for children. Outbreaks of yellow fever can give rise to sudden and severe epidemics, especially in densely populated areas, where the mortality rate can be as high as 50 percent.

Yellow fever infection causes fever, hepatic necrosis, acute renal tubular necrosis, bleeding, and shock. Case fatality is 10% to 50% in the indigenous population in an endemic area but approaches 90% in unimmunised travellers.
Transmission
Transmission of yellow fever occurs in three ways – sylvatic (jungle), intermediate and urban.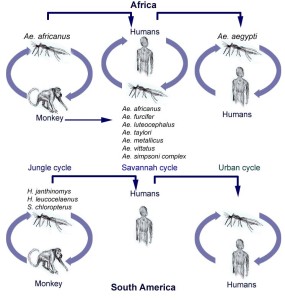 All three cycles exist in Africa, but in South America, only sylvatic and urban yellow fever occurs.
Australian perspective
No cases of yellow fever infection have been recorded in Australia but the Aedes aegypti mosquito is common in the coastal regions of North Queensland. The objective of Australian quarantine precautions is to prevent the introduction of yellow fever virus into Australian mosquitoes. Unimmunised contacts returning to northern Australia are therefore subject to quarantine.
International issues
The international risk comes in situations where YF virus infected individuals with significant viraemias end up in settings where (1) there is an abundant aedes aegypti vector population, and (2) where the YF virus immunity of the human population is low.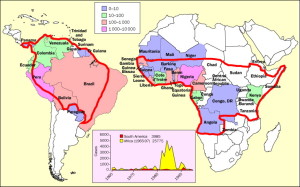 WHO estimates that around the world, approx 30,000 deaths occur each year from yellow fever. The numbers of reported cases and deaths are much less, but periodic epidemics in Africa lead to hundreds of thousands of cases.
Yellow fever was detected in Angola late in December 2015 and confirmed by the Institut Pasteur Dakar on 20 Jan 2016. Since then, the disease spread rapidly to the DRC but ended Dec 2016 (Angola) and by February 2017 (DRC). More than 30 million people were vaccinated in the two countries. This outbreak has now been contained.
In 2017, an outbreak of yellow fever has been reported from Brazil, incl suburban Rio de Janeiro.
Between 1 Dec 2016 and 8 Feb 2017, there were 1060 cases of yellow fever reported (215 confirmed, 80 discarded, and 765 suspected cases remain under investigation), including 166 deaths (70 confirmed, 3 discarded, and 93 under investigation) in Brazil. The case fatality rate (CFR) is 33 percent among confirmed cases and 12 percent among suspected cases.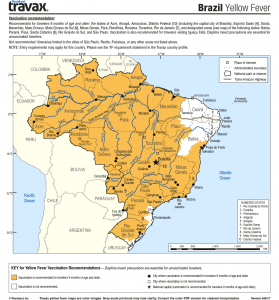 New World (howler and spider species) monkeys have been particularly susceptible to the infection and may be at risk of extinction.
The red area outlined for Brazil in the above map, should extend very close to the southern coast as indicated on the map of Brazil, opp.
Hazards for travellers
Prevention is better than cure.
The requirements of different countries are very different.  If Googling Yellow Fever, be very careful which country you are visiting.
Travellers are better to check with their Travel Clinic doctor.
Vaccine Information.
The mostly mosquito-spread virus was largely wiped out from the West following the development of 2 vaccines in the 1930s, but still sparks epidemics in Africa and Latin America.
Yellow fever is the only internationally regulated vaccination, each country having its individual regulations. As of 2014, yellow fever vaccine had been introduced in routine infant immunisation programmes in 35 of the 44 countries and territories at risk for yellow fever in Africa and the Americas.
Australia requires a certificate of vaccination from travellers over 1 year of age entering Australia within 6 days of having stayed overnight or longer in a country with risk of yellow fever transmission, as listed in the Weekly Epidemiological Record. The vaccination requirement is imposed since the principal mosquito vector Aedes aegypti is present in Australia. A Yellow Fever certificate is valid from 10 days after vaccination.
The vaccine is available from accredited clinics in each state. This is the list for country Victoria.
The vaccine used in Australia is called Stamaril. It is a live stabilised vaccine reconstituted from the freeze-dried product containing the attenuated 17D strain of yellow fever virus. The vaccine contains gelatin and egg protein. A single dose produces immunity after 7-10 days and is now considered to last a lifetime.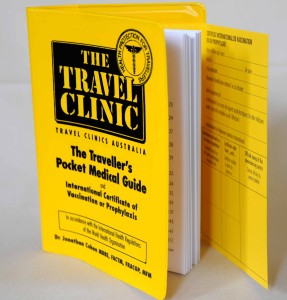 International Health Regulations (IHR):
As of May 2014, the IHR were amended to state an indefinite validity of an International Certificate of Vaccination or Prophylaxis (ICVP) for yellow fever vaccination for the purposes of an entry requirement, no matter when issued.
Updated yellow fever requirements were last officially published by WHO on January 22, 2016, in Annex 1 of the 2016 online update of International Travel and Health (ITH). This amendment took effect from June 2016.
Precautions
As it is a live vaccine, the yellow fever vaccine should be administered on the same day as other live vaccines (eg Priorix, varicella vaccine) or separated by a period of 4 weeks.
Adverse events
Typically, these are mild and occur in about 25% of vaccinees. Severe reactions are rare. Anaphylactic reactions have been estimated to occur in 0.8 per 100,000 vaccinations, mostly among persons with allergies to eggs or other vaccine constituents. YF associated neurotropic disease, which may not be a single entity but may include post-vaccinial encephalitis, Guillan-Barre syndrome, and autoimmune disease, has been estimated to occur in 0.4 per 100,000 vaccinations. YF associated viscerotropic disease (see below), which clinically resembles naturally acquired YF, has been estimated to occur in 0.3 per 100,000 vaccinations. Advanced age and previous thymus disease are risk factors for systemic adverse events following YF vaccination.
Contraindications
Patients under 9 months of age and pregnant women should not have the vaccine. A recent study in Brazil showed the vaccine used (in that country) to be effective during pregnancy and very safe. A similar study using Stamaril has not been carried out.
Yellow fever vaccine should be given to a pregnant woman only if clearly needed.
A theoretical risk of transmission of vaccine components exists to the infants from breast-feeding mothers, therefore lactation constitutes a contraindication, particularly when infants are below 9 months of age because of the risk of encephalitis. The risks and benefit should therefore be assessed before making the decision as to whether to immunise a nursing woman.
Patients with multiple sclerosis, anaphylactic reactions to egg protein or a previous injection of the vaccine and diseases of the thymus gland should avoid vaccination.
Immunocompromised patients, those with a fever and those with HIV/AIDS should discuss options with their travel doctor.

The Aged:
Yellow Fever vaccine-viscerotropic disease (YEL-AVD) has a case fatality rate of at least 60% of cases, and older age and thymic disease have been associated with an increased risk for YEL-AVD. Risk increases from 0.4 to one case per 100,000 doses of yellow fever vaccine distributed for travelers aged greater than or equal to 60 years and 2.3 cases per 100,000 doses for those aged greater than or equal to 70 years. but it has only been reported in the primary vaccination.
Weighing the risks and benefit of yellow fever vaccination in older individuals (and for pregnant women) travellers is complex and ideally should be done in consultation with a travel medicine specialist. Given the possible severity of the disease, those who can't be vaccinated should avoid travel to areas with active transmission.   CDC 20.3.2015
"Women prospective travellers between the ages of 56 and 76 without autoimmune disease or thymoma may be recommended for vaccination. Men in this age group are at an increased risk that is difficult to quantify. Travel should be delayed until the risk of acquiring yellow fever has abated. People aged 77 or older should be warned that they are at increased risk and should also not be vaccinated until the risk has past."  Stephen J. Seligman, MD, March 2017.
The discovery of Yellow Fever
During the Spanish-American War of 1898 about 968 American soldiers were killed in action, while about 5000 died from yellow fever. This led to the establishment of the US Army Yellow Fever Commission to study the disease. The Commission was led by Walter Reed and was carried out in Havana, Cuba.
Commission member Jesse Lazear (1866-1900) had studied the incubation period of the disease and, together with two others, allowed him to be bitten by female mosquitoes previously fed on yellow fever patients.
He contracted yellow fever and died in September 1900, aged 34.
The Commission was able to determine that the infecting organism was a virus, the first human virus ever discovered.
Stockpile
In 2001, WHO established a rotating stockpile of 2 million doses of yellow fever vaccine, which is held at manufacturers' sites in Africa and South America for epidemic response. The stockpile is funded by the Global Alliance for Vaccines and Immunizations (GAVI) and, since 2010, with additional funds through the ICG (International Coordinating Group on Vaccine Provision for Yellow Fever Control (YF-ICG)). Management, governance, and release are as per the ICG procedures for meningococcal vaccine. Between 2001 and 2013, an average of 5 million doses were distributed annually.